Biotage® Lysera
---
Lyse or Homogenize the Toughest Samples in Seconds
Biotage® Lysera is the most advanced and easy to use bead mill homogenizer available. It is specifically designed for automating the grinding, lysing, and homogenizing of biological samples prior to sample preparation.
---
Part Numbers
| Part No. | Description | Pack Size | | |
| --- | --- | --- | --- | --- |
| 19-060 | Biotage® Lysera | 1 | | |
---
Benefits
The convenient front-loading design maximizes laboratory bench space, and the removable tube carriage allows for sample pre-cooling and more efficient sample loading. The Biotage® Lysera stores up to 99 programs for standardized and reproducible results, and has an advanced sample temperature monitoring system and a multilingual user interface.
All Soft tissues (bacteria, liver, brain, skin, etc.); Hard/Tough tissues (bones, corn, hair, seeds, soil, etc.) and micro-organisms (gram+, gram-, yeast, etc.) can be homogenized with one of 8 adapted bead mixes.
Wide range of accessories for any sample size – 24 x 0.5 mL, 24 x 1.5 mL, 24 x 2 mL, 12 x 7 mL, 3 x 15 mL, 6 x 30 mL, 3 x 50 mL, or 96-well strip well tubes
Broadest performance range (0.8 m/s – 8 m/s) and highest disruptive energy of comparable bead mill products.
No cool down required between runs: process hundreds of samples per day
Convenient front loading design, 99 programmable memory settings, and multilingual user interface
Disposable tubes ensure no threat of cross-contamination or sample degradation
Advanced carriage motion optimizes bead movement inside the sample tubes to minimize swirling. This increases processing efficiency and reduces sample heating
Wide variety of sample processing, in volumes ranging from 20 µL – 50 mL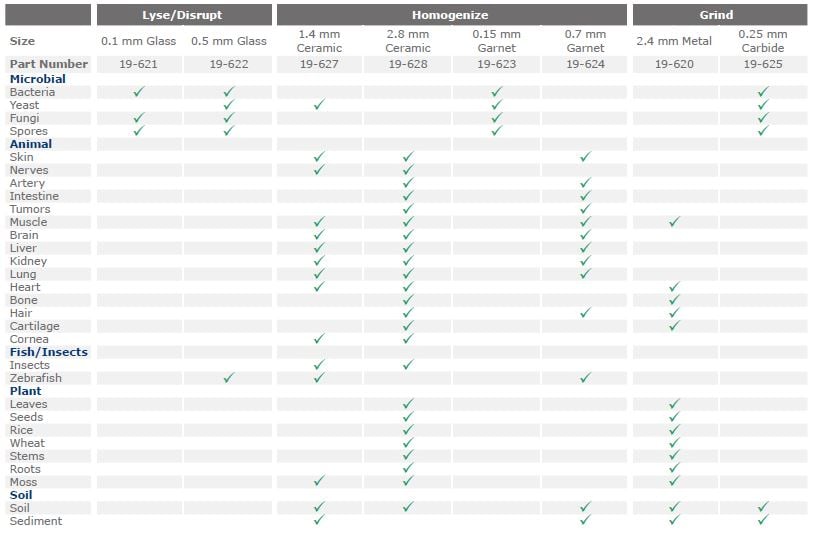 Optimized Tube Motion Ensures Highest Performance
Biotage® Lysera is designed with a unique carriage motion to ensure that the intra-tube bead movement reduces swirling and results in the highest bead impact forces of any bead mill on the market. The increased power of the Biotage® Lysera decreases processing time and reduces sample heating to maximize sample homogenization efficiency



Increased Recovery
The Biotage® Lysera unique tube carriage motion coupled with sample specific bead beating materials ensure that a thorough homogenate is achieved regardless of the sample type. The high lysing efficiency of the Biotage® Lysera results in a increase in analyte recovery and increases the sensitivity of the downstream assay.



Wide Range of Bead Kits
Biotage offers users ultimate flexibility with a range of bead beating tubes and lysing matrices to support homogenization of any sample type.
Note: Biotage® Lysera Tube Carriages are sold separately.


---
Specifications