Biotage® V-10 Touch
Walk-up, Walk-away Evaporation System
Biotage® V-10 Touch rapidly dries samples dissolved in both aqueous and organic solvents. It easily evaporates HPLC fractions from purification, high boiling point solvents from synthesis and features a dry-down onto silica technique for easier dry load capabilities prior to purification.
Benefits
The V-10 Touch is the only laboratory evaporator that dramatically impacts organic chemistry workflows by removing liquid-liquid extraction steps and enabling the use of solvents like NMP or DMF. This leads to improvements in sample solubility and benefits synthesis efficiency by allowing a greater range of solvent choice for synthetic steps.
When synthesizing peptides, the V-10 Touch allows simple removal of cleavage cocktails and evaporation of HPLC fractions, simplifying and automating these steps.
The benefits of adopting the V-10 Touch into workflows are many. In organic synthesis,  chemists are no longer limited in their choice in terms of solvents but can use any solvent that fits the need of the chosen synthetic route more closely. In peptide synthesis, valuable peptides are isolated days earlier. In all synthetic workflows, the number of work-up steps is greatly reduced.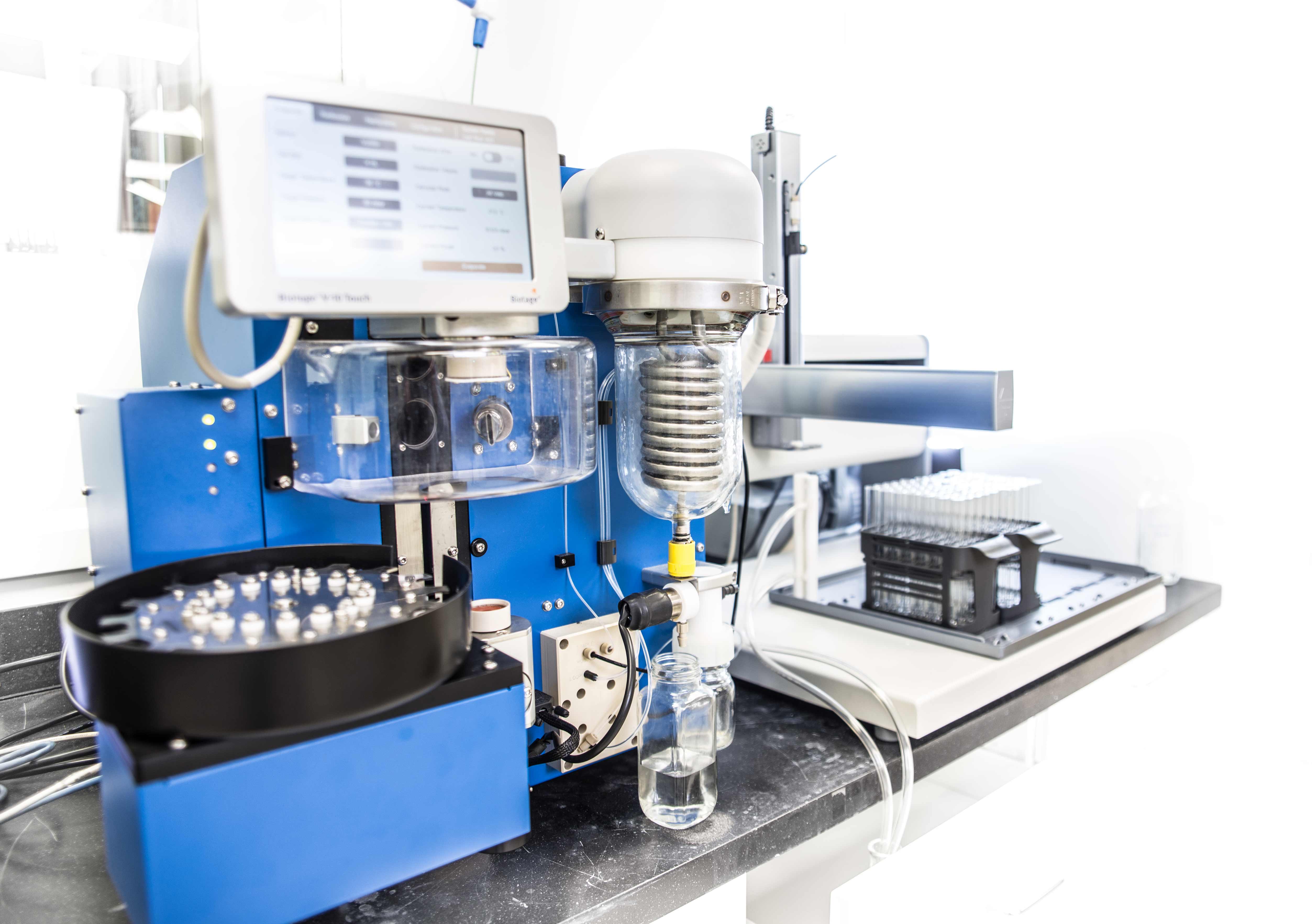 Your Chemistry. Faster.
The V-10 Touch allows you to perform incredibly rapid evaporations regardless of solvent boiling point and without the risk of bumping or contamination. This is acheived by utilizing thin-film evaporation created by rotating samples at speeds up to 8,000 rpm, and the application of heat and vacuum. And you can leave your system unassisted while it does all that…
As well as using the built-in vacuum pump, it is possible to accelerate the evaporation process even further by connecting an external vacuum pump so you evaporate DMSO and NMP in minutes.
Reduce the time taken in monotonous solvent removal steps in an automated solution that is vastly superior in speed to other evaporator systems.
 
Your Chemistry. Simpler.
Use the solvents you want without restriction, allowing for easier and more adaptable chemistry, by simplifying solvent removal post reaction. The clean V-10 Touch interface gives you complete on-the-fly control over temperature and pressure, while the built-in methods for can be used to evaporate common solvents and the system can be simply programmed to your needs.
Your sample is kept safe at all times with precise contact-free heating and real-time infrared control which carefully controls your evaporation condition.
And it never bumps! You can start an evaporation and walk-away, let the V-10 take over from there. 

 
Your Chemistry. Greener.
The V-10 Touch removes high boiling solvents with high solvating power (for example DMSO and NMP), so you can now choose these solvents without the typical time penalty to remove these solvents during the synthesis work-up steps, making these solvents accessible for use. That means higher reflux temperatures, higher concentrations in less solvent that work together to drive reactions harder. Because less high-solubility solvent is needed, less is removed and put in the waste container. Finally, the V-10 collects evaporated solvent in its internal condenser, so no solvent is released to the atmosphere. All in all, a greener approach to synthesis.